These smart cabinets were initially intended for use in hotels and even airports. However, more and more ordinary people are buying them for their daily use. The purpose of this innovation is that you can clean all kinds of clothes while they are hanging in this smart closet, maybe some fancy pants or any kind of delicate garment.
So, these cabinets are perfectly designed to wash your clothes, disinfect them and then dry them. If you are already interested in having one that makes your life easier, you should know that the companies best known for their designs and bets in this area are Samsung and LG.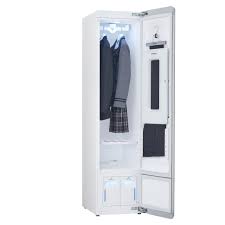 How does this smart closet that washes and irons clothes work?
Thanks to its Jet Steam system incorporated into the cabinets, it is possible to release dust and dirt from clothes by means of very powerful steam outlets, which, in addition, do so with minimum vibration and noise. So, one of its advantages is that it is quiet enough to be placed in any space in the house, even if you want in your bedroom. Best of all, while this process is going on, there is also a disinfection process that manages to eliminate all germs.
In addition, this device has an air system that dries the clothes and then, as if this were not enough, it passes them through a process that reduces wrinkles and leaves them ironed and ready to be used immediately.
The smart cabinet also has certain functions that eliminate odors produced by sweat or food. Therefore, since no detergent is required, you will be able to choose the scent you want your clothes to have.
It is the most complete device you can have
Moreover, it has a built-in display that allows selecting the appropriate cycle for each type of garment. This means that you can tell the device what type of fabric it is going to wash, so you can take the precise care that the garment requires to keep it in perfect condition.
And as we told you at the beginning, the device is often very useful for daily tasks in hotels, laundries and airports. But, nowadays, people with a very hectic life and who do not have the time to carry out these tasks in the traditional way, are opting to have a closet that takes care of the laundry. However, if you are already thinking of buying it, you should know that you will have to spend about a thousand dollars to take advantage of its multiple benefits.
You can also read: Houses of the future will have smart walls