Teslasuit is a company that specializes in virtual reality and motion capture. And it has just introduced a glove that allows users to feel virtual textures, collect biometric data (pulse) and even record hand movements while wearing it.
The glove is scheduled to be officially launched in the second half of this year. But, it will debut at the Consumer Electronic Show (CES) to be held this January.
The Teslasuit Glove, here's what you need to know about this amazing glove
The virtual reality glove or Teslasuit Glove, the official name, is designed especially for use in medical rehabilitation, training and other professional functions. But, whoever wants to purchase it, will be able to do so for a price of $5,000.
This innovative glove incorporates several technologies that create a very precise sensation of touching and holding objects. But also, it works with Wi-Fi, and with the branded suit used to capture body movement and used in the film and video game industries.
In addition, it includes haptic feedback capabilities, meaning that it provides sensations to the body of touching a surface that does not actually exist. This is made possible by an array with nine electrodes on each finger.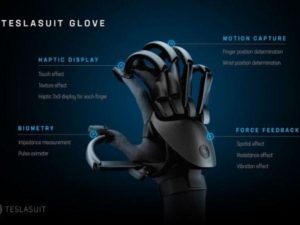 And there's more about the Teslasuit Glove
The glove also has a plastic exoskeleton that, by exerting force, creates resistance and vibration to simulate interaction with other objects. On the other hand, it includes a pulse oximeter to measure the user's heart rate, but also through this to measure stress levels and other additional physical characteristics.
You should know that, although CES 2020 attendees will be able to personally get to know this novel glove, it cannot yet be purchased, as it is still in the testing stage.
And if you are wondering if this could reach the gamer world, here we clear the doubt: the brand does not rule out this possibility and think it would be a very revolutionary device in this field. However, they also comment that its high price could be a major drawback.
And you, would you like the Teslasuit Glove to be implemented in the world of video games, and if so, would you buy it?
You can also read: A virtual reality set that recognizes your face, the next thing from Apple.