Vacationing in space is surely one of the most prominent promises of major companies such as Under Armour and Virgin Galactic. The latter, headed by billionaire Richard Branson, is putting a lot of his resources into what will become space tourism.
It is for this reason that the issue of clothing to make the long-awaited and expensive trip is already being contemplated, as the latest is the alliance with the sports company Under Amourwhich will be in charge of manufacturing the space suits for the first commercial trips into space.
Under Amour, revealed that a specialized team has been working in conjunction with one from Virgin Galactic, all with the goal of being able to deliver a space wardrobe system. The idea behind this one as posted on the sports company's blog by CEO and founder Kevin Plank is:
"Make it safe, functional and comfortable, putting its own stamp on classic spacesuit attire and shaping the way the next generation of space travelers will dress."
Defining the future of spacewear. In partnership with @virgingalactic, we used our most groundbreaking and iconic fabric technology to create a suite of products for Future Astronauts. Learn more 👉 https://t.co/EyAmL6Qgt7 pic.twitter.com/ZcKapZUhu6

— Under Armour (@UnderArmour) October 16, 2019
How does the spacesuit Under Armour designed with Virgin Galactic work?
During a photo-op presentation with lights and dancing, with Branson among the models, the companies did not give very specific details. But according to the spacesuits' informational website, they will feel and look like a second skin on the space traveler's body.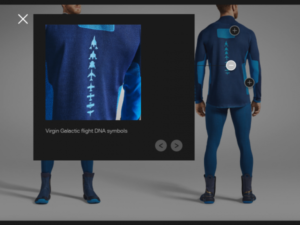 So, the base layer is made from a smart fabric known as Intelliknit Fabric, which is, of course, owned by Under Armour. Among its characteristics is its resistance to changes in temperature and humidity.
Regarding the above, Plank, added:
"From the hottest desert to the cold of space, UA Intelliknit delivers temperature regulation and sweat management that makes the impossible possible."
Dancing in weightlessness. The world's first exclusive spacewear system for private astronauts, designed by @UnderArmour in collaboration with @VirginGalactic. https://t.co/FpH4SIjvO0 pic.twitter.com/msXsBulHUi

— Virgin Galactic (@virgingalactic) October 16, 2019
The next layer, would be the space suit, this is inspired by the reflection of the sun in space, among its shades are dark blue, light and golden objects. In addition, Under Armour used patented fabrics that adapt to the exact shape of each body with great precision.
The suit is called UA/VG Spacesuit and best of all, it has special materials in the knees and elbows, which facilitates the user's mobility.
But it also has other interesting elements:
Several pockets to store personal items, including a transparent one near the heart to include a photograph of a loved one.
Integrated communication system with a switch to transmit signals.
If you liked this article, you may also want to read: Virgin Galactic successfully took its first passenger to the edge of space